I've been waiting to comment on this whole debt ceiling nightmare until it came to a conclusion, so as not to sound like a pessimist. I didn't want to sound hyperbolic in beating up on Obama prematurely. Well now we have a good idea of where this is all going, and I can't possibly beat up on Obama excessively. 
I have so many thoughts on this whole debacle that I hardly know where to begin so I've decided to start at the end.
The "deal" is a turd that no one can polish. In exchange for what has historically been the routine task of raising the debt ceiling, Obama agreed to more than $1 in cuts for every dollar that the debt ceiling was raised. Are you fucking kidding me? This is a compromise?
And the cuts themselves seem shady, vague, and downright implausible. Am I really supposed to believe that we're going to cut 350 billion out of defense? How the fuck is that going to happen? Aren't there legions defense industry lobbyists whose sole purpose in life is to piss of as much tax payer money as humanly possible on useless equipment that doesn't work, and that we don't need? We're supposed to believe that the politicians they've bought and paid for just went along with cutting defense? The only possible cuts to defense that I can see congress agreeing to, are those that pertain to veteran's benefits. Why do I say that? Because veterans don't have lobbyists. They're the easiest target to hit in defense spending.

And I love how there are a first round of cuts with more cuts to come by the end of the year. What the fuck is that? Well let me tell you; it's all meant to confuse and obfuscate so that we can't tell exactly what gets cut and when they do it. Now that the debt ceiling crisis is over, does anyone believe that the nightly news will do much reporting on cuts to education, infrastructure, food safety, and a dozen other programs that are responsible for keeping us from becoming a third world country?
And what the fuck is up with this "super congress" bullshit? First of all, I think that most Americans would be overcome with joy if we had an adequate congress. Secondly, we're supposed to be living in a representative government. Are we going to get to vote on who sits on this "super congress"? Who doesn't think that the democratic representation in this "super congress" isn't going to be Mark Warner and Mary Landrieu? Does anyone really think that Dennis Kucinich has a snowball's chance in hell of being one of the democratic delegates to this super, special congress?
Now I want to rewind back to the beginning of this whole nightmare. Why, when republicans started this talk of spending cuts, didn't Obama counter with a rational framing of the situation? Why did he accept their premise? Why didn't he point out that cuts to domestic spending, in this economy are disastrous? Why didn't he point out that policies like stimulus spending have resulted in more jobs being created by this administration that the entirety of the eight years of the previous one? Why didn't he make sure that the conversation was about jobs instead of cuts? Why did he perpetuate the rhetoric that entitlement reform is vital to reducing our debt? Is he stupid? 
Here's a graph that shows who owns our debt: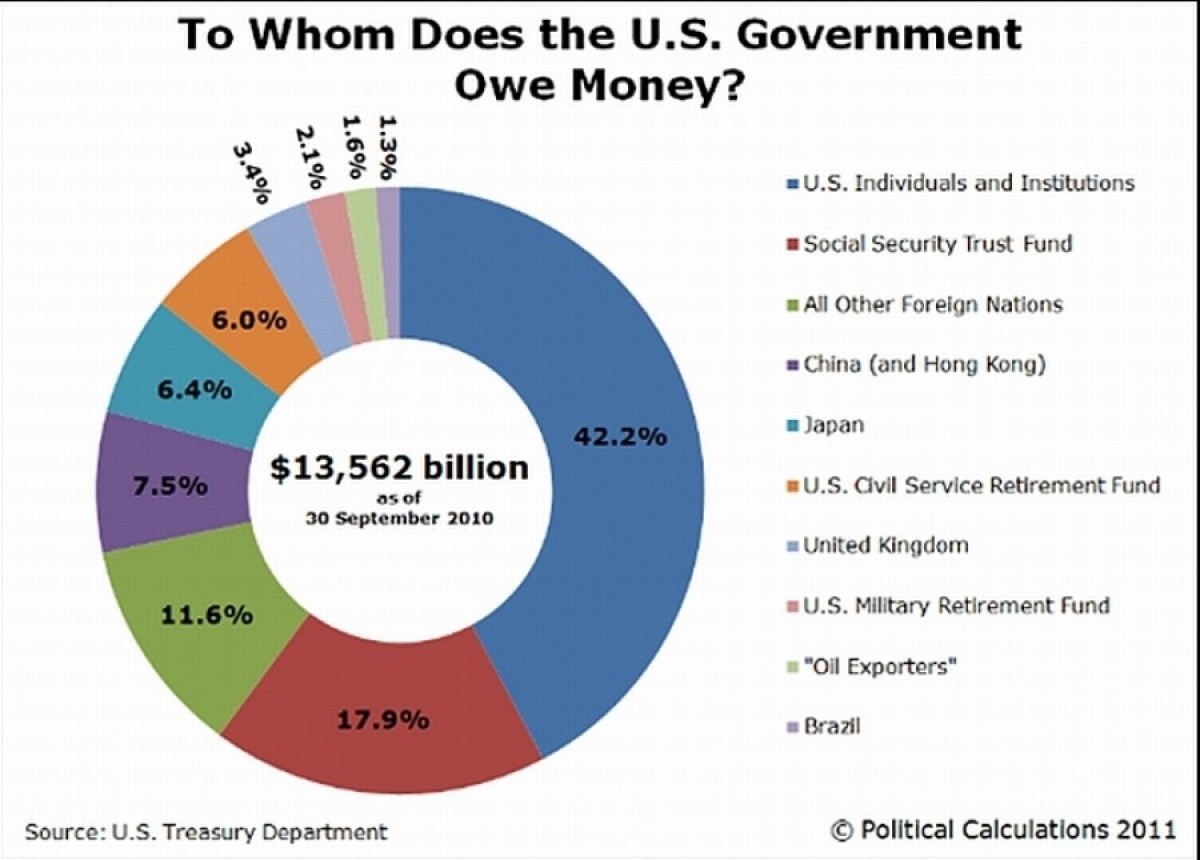 Let's take a close look at these numbers. The biggest chunk of our debt is owned by "US investors and private institutions". Who is that? It's mostly pensions and retirement accounts, as well as some investors. That would be us as in, you and I. The next biggest chunk of our debt is owned by the Social Security trust fund. That would be us as in, you and I. There are two other owners that I would like to point out; the US civil service retirement fund and the US military retirement fund. These are the nasty, worthless sloth sucking us dry through their government jobs. In other words; us as in, you and I. If you add up the money that is owed to us, we own 67.4% of the debt of the United States.
So when you hear anyone talk about cutting entitlements, what they're getting at is not paying back the social security trust fund, the civil servant pension fund, and the US military pension fund. Do you think that Obama is unaware of who owns our debt? Or, is it possible that he wants to cut entitlements so that he doesn't have to pay us back in order to balance the budget?
By the way, they're called entitlements because it's our fucking money. We're entitled to get it back exactly as we were promised we would.
And remember a couple of weeks ago, when it became clear that the republicans were willing to play chicken with the debt ceiling? Remember how many people thought that Obama could invoke the 14th amendment to raise it without congress? And do you remember how Obama took that off the table right away? Why did he do that? Is he stupid? Or is he in on the plot to rob the middle class?
Oh, and do you remember when Obama insisted on a 1/1 ratio of increased revenues to spending cuts? Yeah, me neither. Is he the world's shittiest negotiator, or is he in on the plot to rob the middle class?
Also, do you remember when he insisted on expiring the Bush tax cuts early in order to help bring the deficit down? Oh right, that never happened. He never mentioned the Bush tax cuts. You decide; is he in on the plot to rob the middle class so that the rich can stay rich without contributing a fucking thing to the country that enables them to be rich, or is he just a hapless rube?

There was a story floating all over the internet last Friday about how Apple Computer had more money in the bank than the US government. I saw people posting it all over the place. I didn't see much discussion about how that happened. I didn't see many people talking about the fact that Apple is sitting on all of this money that they were able to amass in part, because they're paying a pittance in taxes compared to what they were paying when they started out. I didn't see much talk about the fact that those tax cuts lead to money in the bank for Apple, rather than leading to more jobs for Americans.
Through this whole "negotiation", I never heard a single word about how US corporations are sitting on 2 trillion dollars in cash reserves while nearly ten percent of Americans are unemployed. I heard plenty about "sacrifice", but none if it was about sacrificing one cent of that 2 trillion dollars. Why is that? Why didn't Obama bring up that one simple fact that would have had Americans pouring out into the streets with outrage? Is he stupid? Or is he in on the plot to rob the middle class in order to keep the rich on top of the economic food chain?
I titled this post "President McCain" because as this debt ceiling theater was being played out for us, I couldn't help but think that we would have been better off if McCain had won the election. Yes, you read that right and no, I haven't lost it. Think about it, do you think that entitlement cuts would even have entered the discussion if John McCain were president? Or do you think that democrats would have united against a republican president in blocking those cuts, as they have with so many republican presidents before? Don't you think it's harder for democrats to stand up against the leader of their own party?
A few of them have spoken out about what an incredible shitty deal this is for America's middle class. John Conyers, the very first politician to support Obama in his bid for the presidency, suggested that it's time for Americans to stand up and fight Obama.
I've always believed that only a democratic president could unravel the social safety nets in this country. I didn't think that it would be Obama. I, unlike most political junkies, can admit when I was wrong.
And yes, a big part of me wishes that McCain had won the last election.