We finally, nine days after an unarmed boy was gunned down in Ferguson Mo, have an autopsy. Do we have an official autopsy from the ME in Ferguson? No. Nine days later, do we have a statement from officials in Ferguson regarding the manner of Michael Brown's death? No. What we've gotten from Ferguson officials in the past nine days is a video of a completely unrelated crime committed by the victim. But virtually nothing regarding the actual murder of Michael Brown. To recap; Ferguson officials have given the public no information regarding Michael Brown's death, but have instead provided us with a video that depicts malfeasance on behalf of the victim. Curious, but I will get back to this later. Now about the autopsy.
What we finally have, is a private autopsy conducted by a medical examiner from New York, that was done at the behest of the victim's family. That's right. In order for a family in America to know how their son/brother/cousin/nephew died in America, the family must now pay for their own medical examiner (this one did the work pro bono, but you get my point).
What did the autopsy show? Michael Brown was shot six times; four times in the arm, and twice in the head. Here's the actual visual from the report (I highlighted the bullet wounds in red because they were hard to see).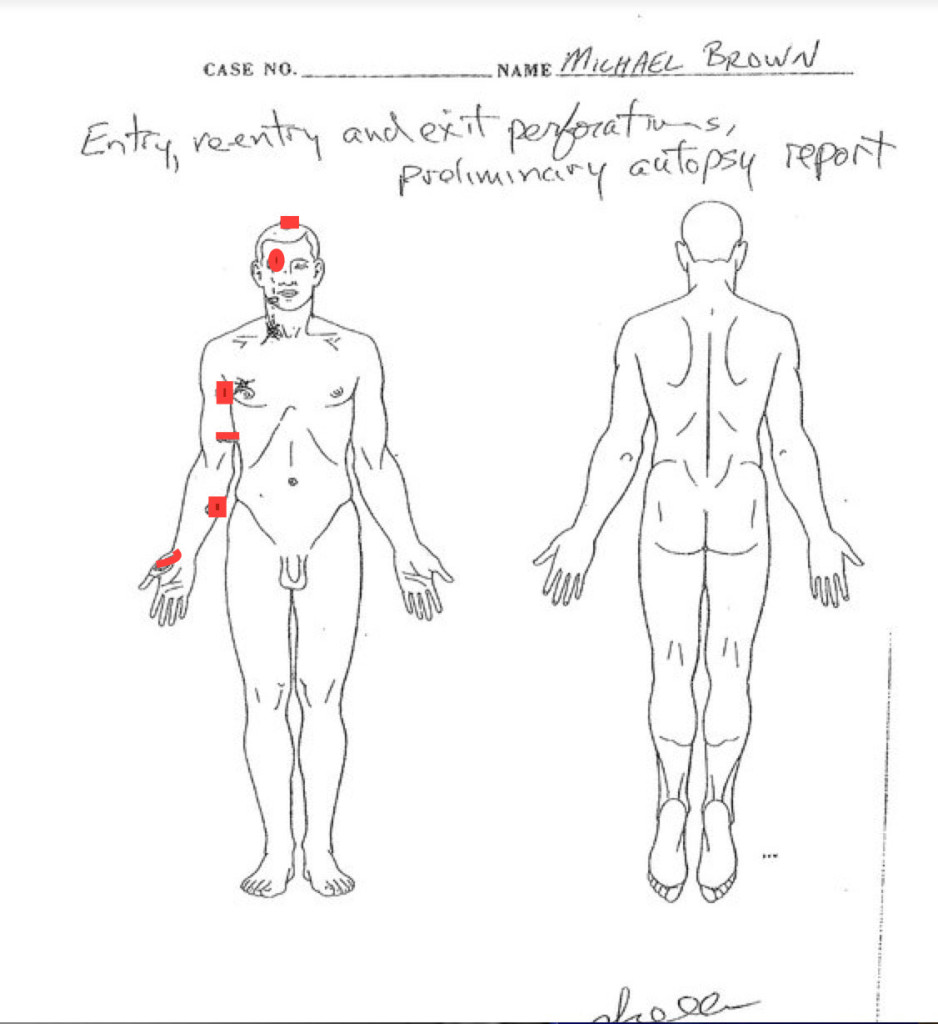 This lines up with witness accounts. We only have witness accounts because nine days later, we still haven't heard the shooter's version of events. Does anybody think that if they killed someone in Ferguson, that the police would give them a week and a half to get a story together? Or is it standard procedure to question a suspect immediately after a crime has been committed? Okay, that waiting to get a story out there thing isn't unique to Ferguson, but it's still bullshit every single time a police force does it. They shouldn't get a different standard than any other suspect in a crime.
My point here is that everything the Ferguson police department has done so far looks like a cover up and a smear job. Their only comments about Michael Brown so far, have been in reference to the (let me say it again) completely unrelated crime that he committed prior to being killed. Not a peep about the killing itself. Not a peep about the manner of death. Not a peep about why the officer felt justified in firing several bullets at Michael. They have literally given us no reason to believe that this killing was justified.
And yet, despite that fact, there are a group of people rallying on behalf of the shooter. Let me repeat; the shooter himself, has said nothing to defend his actions and yet, there are people out there who are willing to defend him. It seems to me that defending someone who hasn't defended themselves appears to be a choice that's separated from the situation. When we hear another account, we will weigh that. But for now, we have several witnesses and (now) an autopsy that supports those witness accounts that this was a wholly unjustified murder. And that's all we have. Creating a narrative on the other side is just that; a creation.
Huh. What could the motivations here be? Why would a person create a defense for someone who hasn't come forward with one of their own?
I'll let you decide.