So the world exploded in collective laughter and mockery of Fox News after they had a "terrorism" expert Steve Emerson on to scare the crap out of their audience by telling them about the super dangerous Muslim-only no-go zones. They're "no go" because if you're not a fundamentalist Muslim, you aren't welcome. Here's the clip that started the whole world's collective laughter;
Did you catch that? Muslim density! Police don't go in! A caliphate within a particular country! That was just France, where sectors of Paris have been overrun. The situation was much more dire in England, where all of Birmingham fell. And in parts of London, there are Muslim religious police that beat and wound anyone who doesn't comply with Sharia law!
This idiocy birthed a hashtag that dominated twitter for a couple of days. #foxnewsfacts. Here are just a couple of my favorite posts that came out of that;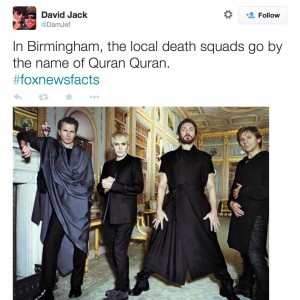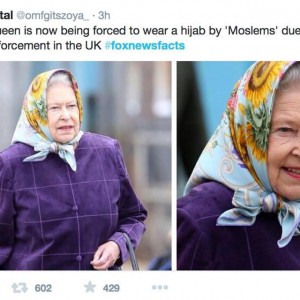 You get the idea. David Cameron even chimed in to call Emerson an idiot.
Emerson then did an interview on the BBC, where he apologized for his "mistake".

He said that it was his bad for not checking his otherwise very reliable source. He refused to share who the source for this absurd information was. He also curiously didn't know Fox News' reaction to his completely bullshitty claims about France and England. That was weird, right? Not at all. He didn't want to tell the public what Fox thought of his make-believe scary Muslim cities within European cities because he didn't fuck up. He did exactly what Fox instructed him to do; scare the crap out of their audience. Fox's goal is, and has always been to keep their audience pooping in their pants with fear, so they don't notice that JP Morgan Chase has a hand in their pocket. Emerson didn't make a mistake. He did what he was told to do. That wasn't actually the first time he spewed that nonsense on Fox. He was on Hannity's show earlier peddling the same crap.
In this clip, he claims first hand knowledge from when he was in Brussels a year earlier, and the police were too afraid to take him into their Muslim no-go zones. Seriously? Other countries who are falling to the Caliphate are Belgium, Sweden, Netherlands, and Italy. The focus on the fear for Hannity's audience seemed not to be Muslims, but all immigrants and loose immigration laws. One funny part of that clip is when Hannity claims that there's a prayer rug in every hotel room in Paris. Yes, cause how outrageous is it to put a religious rug, garment, or book into hotel rooms all across a country?
Here's one thing you need to know about cable news shows; when "experts" like Emerson come on once or twice a month, they're not employed by the network. In fact, they very rarely get paid to appear. They're independent of the network, and they're ostensibly brought on to speak on the topic in which their expertise lies. I'm not sure that this is the case on Fox. Why? Because they had another "expert" on another show who curiously had the same bad information. Here's Nolan Peterson, another "expert" to talk about precisely the same bullshit scenario that Emerson vomited all over a few different Fox News shows;
Oh, I forgot to mention that this clip was shown on a French tv show, who went on to mock Fox for 6 minutes. When the first #foxnewsfacts broke out, I said that Emerson wasn't going to be reprimanded or banned because he did what he was told to do. The additional segments make that point abundantly clear.
If that wasn't enough evidence for you, Kenneth-the-page Jindal is going to give a speech in London, in which he doubles down on the bullshit. Oh Piyush, Piyush, Piyush (that's his real first name). Do you want some of that "he's a complete idiot" love from David Cameron? Is that what you're trying to do here? I guess that when he said that the GOP needed to stop being "the party of stupid", he left out the last part, "so that we can escalate to being the party of complete idiots".
This is not a stupid thing that one idiot said on Fox. This is a directive to push a scary story. All of these people didn't accidentally get the same completely fabricated information. No, they got a memo and they're going to keep trying to advance this, and other completely fabricated scary stories for as long as they need to because nothing distracts people from the fraud being perpetuated against them by Mitch McConnel, John "tobacco checks" Boehner and Citibank, like the noxious smell of one's own poopie pants.