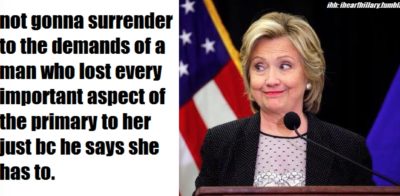 Here's the latest pile of irrational poop that Hillary supporters are putting out there. I saw some variation of this three times yesterday. Twice, my totally respectful comments were deleted (that's pretty telling). I guess they were too threatened to allow the absurdity of this meme to be pointed out (and yet the meme stayed up in both instances, sans my comment).
I'll get to the misogyny later, but let me first address the complete and utter ignorance displayed here. When someone takes forty-six percent of the vote in a primary, they make demands. This has been true since the beginning of time. This is how George HW Bush became Reagan's veep even though by all accounts, the Reagans and the Bushes couldn't ever stand each other.
On September 11, 2008, Obama came to Bill Clinton's office (one block from my house) for what was supposed to be an hour long meeting. The Clintons hadn't yet started campaigning for Obama. Yes Hillary endorsed him a couple of months earlier, but it was clear that the Clintons weren't really throwing much support behind him. That meeting lasted for over two and a half hours. I know this, because a friend of mine and I were waiting out front to get a glimpse of Obama. When Bill and Barack finally came out, I looked at my friend and said, "Bill got something big out of this". That was very likely the day that Hillary became Secretary Of State. Less than ten weeks later, Obama announced that she would be his Secretary Of State.
Here's a picture I took that day: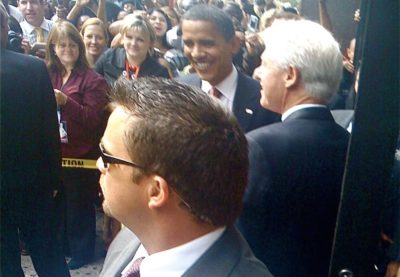 Either the women posting this meme have no earthly idea how politics works, or they're trivializing real misogyny because they have long term thinking deficiency, and believe that this kind of bullshit is going to help their cause right now. But it's not helping you right now, because lots of people know how unelected officials get their posts. If you don't know how literally every cabinet level nominee and veep have been chosen since the very first presidential election, it's best you not post about politics. This is clearly not your thing, and you should stick to what you know. If you're intentionally shitting on every woman in the world who has been a victim of real misogyny because you think this serves you well right now, it's best you stop commenting on misogyny because you're actually hurting women.
You are hurting the victims of GamerGate. You are hurting me, who gets private (I've taken to making them public and getting a little public shaming out of the deal) messages calling me a cunt, or telling me to "eat a bullet" (that was from a couple of days ago) simply for voicing my opinions on the internet. You are hurting all of us by trivializing misogyny. And you're doing it by sounding like a bubble headed ditz who knows nothing about politics. Can you tell that I'm offended to my bitchy core by these idiotic people?
What's worse than that, you're advocating for misogyny. The very definition of misogyny, is treating women differently simple because they're women. You want the guy who got forty-six percent of the democratic primary vote to be the only primary candidate in history to do that well and walk away with nothing? Why? Because Hillary is a woman. That's what you're saying. Treat Hillary differently because she's a woman.
Think. Think before you post. What you're doing here is eighteen different kinds of inane. And by the way, this looks to me like it has David Brock's fingerprints all over it. You know David Brock; he's the guy running Hillary's social media. You know, he's the guy who once very effectively labeled Anita Hill "a little bit nutty and a little bit slutty". Yeah, that's the guy Hillary is working with now( cause she's an awesome feminist, and you're helping him by peddling his bullshit.
Perhaps the people posting this meme are just dazed and confused by the fact that Bernie isn't asking for something that will further his own career. He's not demanding to be veep, and he's not demanding the position of Secretary Of State. He's asking for the democratic party to adopt a more liberal platform. Quell horreur! I would very much like to ask the intellectual powerhouses who have been posting this drivel to explain something to me: which part of Bernie's ask are you opposed to? Have you even thought about it?
Have you thought about any aspect of this kind of propaganda? Because from where I sit, there's nothing intellectually sound or honest here. As a woman with a presence on the internet, I beg you to stop it. You're not helping me, and you're not helping your daughters. You're certainly making zero difference to Hillary and her current situation as the presumptive nominee of the democratic party.
Stop. Just fucking stop.