Just like with Ferguson, we're starting to see some systemic issues with North Charleston PD. We're also learning that the racial makeup of the police force doesn't much resemble the racial makeup of the community.
Let's start with demographics and city data:
49% of North Charleston residents are black

39% of North Charleston residents are white

11% of North Charleston residents are Hispanic

The estimated median household income is $38,258, compared to

$43,107 in South Carolina

The median house or condo value in North Charleston is 122,300

compared to $135, 500
So North Charleston is the poor part of town, just like Ferguson. The racial demographics in North Charleston PD are even more lopsided than they are in Ferguson, where 67% of the police are white. In N Charleston PD, 80% of the police are white. So N Charleston PD is worse than Ferguson is, in terms of hiring police officers that look like and come from the community they're charged with policing. Let that sink in for a minute.
Now on to Michael Slager, the cop who murdered Walter Scott. Just like that piece of crap, Daniel Pantaleo who murdered Eric Garner, Slanger has a previous complaint against him. Pantaleo had three, two of which taxpayers of NYC paid settlements on (the third one is still going through the system). That number of course, does not include Eric Garner.
The previous complaint against Slanger was filed in 2013, has yet to go to court. Here's what happened in that incident. Slanger and his partner showed up at the home where Mario Givens was living with his mother and brother at 4 am one morning in September 2013. Mario Givens answered the door. According to Givens, Slanger demanded to be let inside the house, but never gave a reason for what he was looking for or what he was doing there at all. Slanger then pushed the door and told Givens that if he didn't come outside, he (Slanger) was going to tase him (seems like Slanger loves him some hot taser action). Givens complied because he didn't want to be tased. Slanger tased him in the stomach anyway.
It turns out that they were there because a woman named Maleah Kiara Brown called the police to report that Mario's brother, Matthew (her ex boyfriend) had shown up in her bedroom uninvited. She gave the police a description of Matthew, where she stated that Matthew is 5 foot 5 inches tall. Mario is over 6 feet tall. Slanger and his partner didn't just have a description, they had Maleah and her friend with them when they pounded on the Givens' door. She corroborates Marios story entirely. Right after Slanger tased Mario and pulled him out of the house and onto the porch, Maleah claims that she was yelling at the officers, telling them that they had the wrong man. Here's what else she said,
"He [Slanger] was cocky. It looked like he wanted to hurt him [Mario]. There was no need to tase him. No reason. He was no threat – and we told him he had the wrong man."
There were other neighbors who witnessed the incident and corroborated Mario's story. You won't be surprised to learn that Slanger's version of events don't much resemble anyone else's. From a HuffPo story about the incident:
Slager wrote that he could not see one of Givens' hands and feared he might be holding a weapon. He wrote that he observed sweat on Givens' shirt, which he perceived as evidence that he could have run from Brown's home, and then ordered him to exit several times.

When Givens didn't comply, Slager said he entered the home to prevent him from fleeing and was then forced to use his stun gun when Givens struggled with him. The officers' report describes the Givens brothers as looking "just alike."
To be clear, no one else supports Sanger's claim that Givens was struggling or resisting in any way. So an internal investigation ensued. Naturally, when there are several witnesses agreeing on one version of events and a cop telling another story, the cop should clearly be exonerated. Did I forget to mention that the investigation was conducted without contacting any of the witnesses?
I mentioned that Slanger and a partner knocked on the Givens' door in that last incident. That partner's name is Clarence Habersham. You should be familiar with that name by now, but you aren't because of the systemic problems in this police department that I mentioned earlier. You should know his name because he's the same partner who was present for the murder of Walter Scott. You should know his name because he's the second cop you see in the video when Slanger comes back with the taser and plants it next to Scott. If the video was too fast for you to spot that, don't worry. ABC news was kind enough to publish still frames of the video to help us see what happened.
Here's the planting-of-the-taser frame: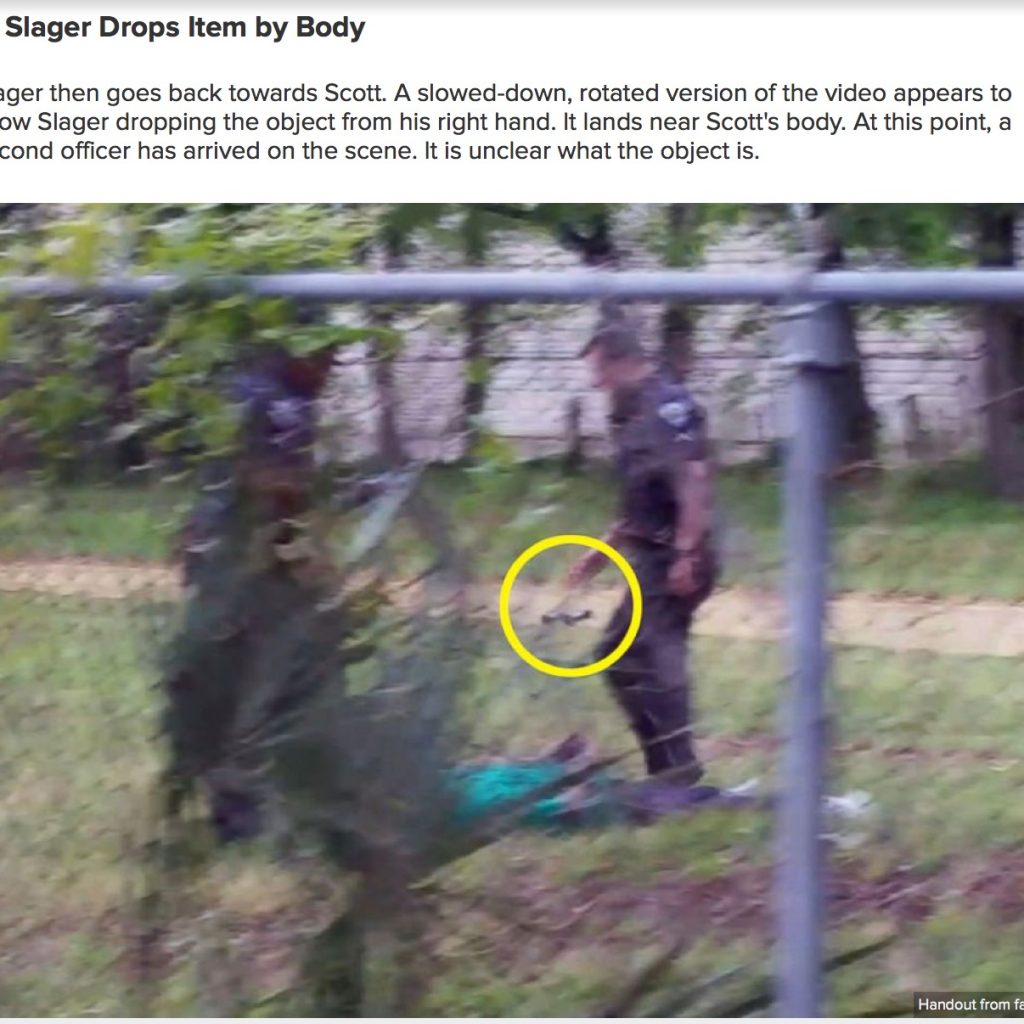 We can safely assume that Clarence Habersham's statement about the incident supported Slanger's since the department originally spewed all that bullshit about Scott going for the taser, and that he ended up dying despite the attempts at CPR. You know, all that stuff that we categorically didn't see in the video. Yet we haven't heard a peep about any disciplinary action taken against Habersham. Well that's weird. It almost seems like the department took the bare minimum action they could, in firing Slanger after the video came out.
The fact that Habersham hasn't been sanctioned in any way is an indication of a major systemic problem with this police department, just like there is with Ferguson. And just like Ferguson, I promise you that we're going to be hearing more incidents of corruption, police brutality, and inaction to correct problems within the department.
I just hope that the Department Of Justice goes into North Charleston PD just like they did in Ferguson.