Did you know that the FBI uncovered a major terrorist plot a couple of days ago? It's a familiar story; a religious whack job was planning on burning a city in New York to the ground, in order to carry out his demented holy war.
Listen to what some of this sick fuck had to say:
"We shall be Warriors who will inflict horrible numbers of casualties upon the enemies of our Nation and World Peace."
The city in New York that was the target of the attack is a small town in upstate, called Islamberg. Here's what this deranged terrorist posted on his Facebook page;
"It [Islamberg] must be utterly destroyed in order to get the attention of the American people"
So the plan was to go to Islamberg and carry out an all out assault. The FBI became aware of this violent jihadist earlier this year, and had him under surveillance for months. One of the wire taps picked up a call where the terrorist was sharing his plans to travel to New York to do some "reconnaissance" in early April. He wanted to map out buildings to burn down. He talked about using molotov cocktails to firebomb a place of worship, school and cafeteria in the town.
Here are some of the other things he said in the wiretaps;
"We're gonna be carrying an M4 with 500 rounds of ammunition, light armor piercing. A pistol with 3 extra magazines and a machete. And if it gets down to the machete, we will cut them to shreds."

"We will be cruel to them. And we will burn down their buildings, and if anybody attempts to harm us in any way … we will take them down."

"If there's a gun fight, well there's a gun fight. And I want to come home 'cause I love my family and I want to see my kids again. But I also understand that if it's necessary to die then that's a good way to die."
So who is this animal, and why haven't you heard anything about this? You haven't heard anything about this because the FBI didn't send out a press release, the way they normally do when they break up a terrorist plot. Why?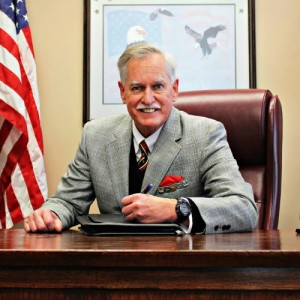 That's why. Meet the vicious terrorist. This is Robert Doggart. He's an ordained Christian minister in the Christian National Church, who lives in Tennessee. He served in the U.S. Naval Sea Cadet Corps, including two years as a unit commander. He has a PhD from LaSalle University, and spent forty years as an electrical generation engineer. In 2014, he was a far right independent congressional candidate, running in Tennessee's 4th district. He got 6% of the vote, but ultimately lost to Scott "no abortions for you, but lots of abortions for my wife and mistresses" Desjarlais.
Who was he talking to in those wiretaps? Militia members in Texas and South Carolina. You know, the types of groups that showed up in Nevada for Cliven Bundy. Why did he target Islamberg New York? Because for over seven years now, Sean Hannity has been asserting that Islamberg is a terrorist training camp.

Despite the fact that this has been debunked, right wing media outlets (like Fox and WND) have been perpetuating the lie as recently as last week. The fact is that Islamberg has about 200 residents. Here are some of them;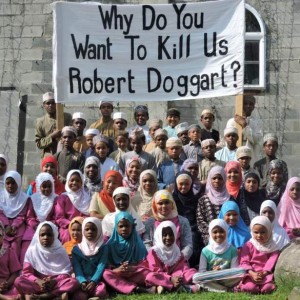 Scary. Thank god Doggert was on the case, and that Fox News set him on the path to protecting America from these…….Americans.
If you listen to Fox news, you don't know shit about shit. It's actually worse than not knowing shit. Everything you've invested your valuable time in learning, is complete bullshit created to make you afraid of things that will never hurt you. An alternate reality has been created to scare and manipulate you.
On a fairly regular basis, these consumers of right wing propaganda plan terrorist attacks and murder doctors in church. Hannity and O'Reilly feed the cuckoo birds with hate, and those birds commit acts of violence as a result of the manure they've been fed. And they [Fox viewers] will never be told about people like Robert Doggart, and the FBI will just forget to send out a press release about catching him.
Don't worry though, you're safe now. They caught him……………and let him go on $30,000 bail. No, I didn't forget a zero. It was thirty-thousand dollars (that's three thousand down if he used a bail bondsman) to get out of jail on charges of planning a terrorist attack. He faces fines of up to $250,000 and up to 5 years in prison. Up to. That would be the most amount of time Mr, "We shall be Warriors who will inflict horrible numbers of casualties upon the enemies of our Nation and World Peace" could serve in prison.
Eric Garner died for allegedly (but not really) selling loose cigarettes. Tamir Rice died for carrying a toy gun through a park.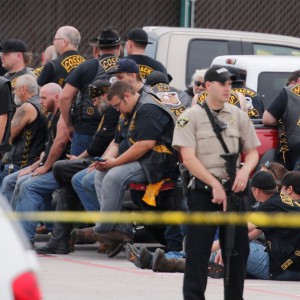 I know it's hard to see what's going on in this picture through all the tear gas and SWAT teams, but that guy checking Facebook on his phone and smoking a cigarette is under arrest for shooting up a diner in Waco, TX with his fellow thugs.
Eric Garner died for allegedly (but not really) selling loose cigarettes. Tamir Rice died for carrying a toy gun through a park.
Your perception that black people are to be feared, and that Muslims are coming to kill you didn't happen accidentally. It's been brewed for you, like a well crafted micro brew beer, with the media and law enforcement all doing their part.
White terrorists and murderers aren't included in your nightly news shows by design. You won't hear about the Robert Doggarts of America by design, even though there are exponentially more right wing terrorists than there are Muslim terrorists. 83% of white murder victims are murdered by white people, but you should definitely worry about black on black crime.
But I know, we're living in post-racial, post-911 America so be afraid of all the brown people, who aren't actually being treated any differently than white people.
My head hurts.